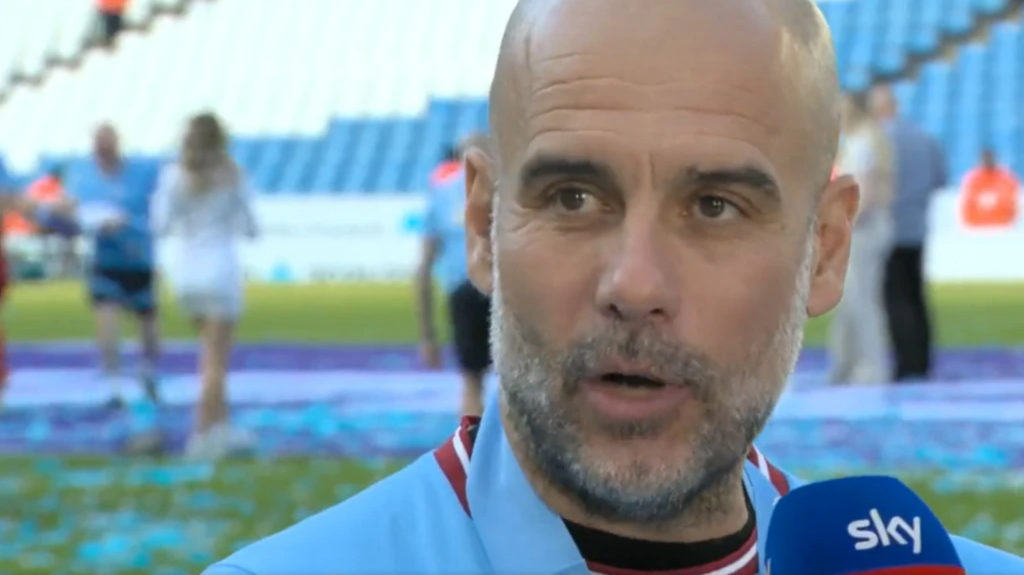 singled out and and discussed Arsenal's title challenge after lifted the top-flight trophy.
City have been engaged in a Premier League title battle with Arsenal all season and at one point the Gunners were eight points clear at the top of the table.
But their defeat at Nottingham Forest on Saturday crowned Guardiola's team as champions for the fifth time in the last six seasons.
Guardiola spoke to Sky after City lifted the trophy following their 1-0 win over Chelsea on Sunday and admitted that players like Saka and Martinelli 'need one action to beat you' and you need top defenders like Nathan Ake to stop them.
'[Nathan Ake] has been fundamental for us,' Guardiola said. 'I learnt this season when you play against Bukayo Saka, Vinicius Junior, Gabriel Martinelli or Mohamed Salah, you need proper defenders to win duels one-on-one.
'They need just one action to beat you. Nathan gave us a boost that we did not have in the past.'
City knocked Arsenal out of the FA Cup this season and won both league encounters, winning 3-1 at the Emirates in February before a 4-1 victory at the Etihad last month.
'Similar to Liverpool, Arsenal got to 50 points and if they sustained that rhythm it would have been almost impossible to catch up,' Guardiola added.
'We had to push them and wait for them to drop points, which they did, and yeah. We always thought we have to be close to them [when they came to the Etihad].
'[At one point] we were eight points behind… Hopefully [we thought] we could beat them [at home] and we had to do it.
'After that, there were more difficult games, Fulham and Everton, with the Champions League games, FA Cup semi-finals… you never know how we are going to respond. But the team was outstanding, I would say.'